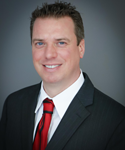 Michael joined the financial services industry immediately following his graduation from the University of Nebraska-Lincoln in 2001. After college, Mike relocated to Denver where he was hired by OppenheimerFunds, a global asset manager with over $249 billion in assets. His role consisted primarily in performing investment transactions for financial professionals and clients. Mike feels this experience was the backbone of his financial education and where he learned the fundamentals of the investment industry.
In 2004, after choosing to relocate back to Omaha, Mike joined Egermier Wealth Management Group to further fine tune his investment experience locally and be closer to family. Here he took on a different role, focusing on learning back office operations and investment research analysis to get a better understanding of how to narrow the scope of thousands of potential investments, and the intricacies of how transactions are filled behind the scenes once executed. After learning these systems and calibrating some of the processes, he returned to his passion of working with clients directly through offering goals based investment advice, and taking on the role of branch office manager.
Mike understands that many people hold themselves out as financial planners and chooses to differentiate himself through education in order to better understand how to best serve his client's needs. He is currently licensed in Insurance, the Series 7 General Securities License, the Series 24 Investment Principal License held with LPL Financial, which is required in order to manage and supervise branch activities, and most recently, the CERTIFIED FINANCIAL PLANNER™ designation, which includes emphasis on taxes, estate planning, retirement planning and investments, among other areas.
Outside of the office, Mike enjoys spending time with his wife, Stephanie, and their children Emma (4) and Caleb (2). Mike met Steph at the Omaha Chamber of Commerce in 2006 where he presented on the topic of Women and Investing. They are proud to announce the upcoming birth of another son, due to arrive in January 2019.
Mike strongly believes giving back to the community is an important part of his personal identity. He has been active with numerous nonprofit organizations, including the Nebraska Financial Education Coalition, the Omaha Home for Boys, and the Skutt Catholic Alumni association.
Mike understands there is a staggering lack of education among the general public when it comes to taking steps to prepare for retirement and other investment based goals. He takes an honest, down to earth approach when discussing these topics in a relatable and easy to understand way. He has appeared in several publications both locally and nationally and has been interviewed on network television concerning a variety of topics.